Fresh Almonds / Dry Roasted Almonds
Indian almonds Exporters, Buy Indian almonds from India , Indian almonds Exporters in India, Best Price of Indian almonds available with Royal Nuts and Dry Fruits.
Royal Nuts and Dry fruits is a leading Exporter of Indian almonds , Indian almonds are Supplied & Exported to United Arab Emirates (UAE), Oman, Kuwait, Qatar, USA, UK, Canada, Australia, Czech Republic, Switzerland and European Countries.
Royal Nuts, Dryfruits & Spices is a prominent in Almonds , Almond Nuts, Rich Dry Almond Nuts, Rich Almond Nuts, Rich Quality Almond Nuts, Whitened Almonds, Super Almond Nuts, Sweet Almond Nuts, Sharp Almond Nuts, Pounded Almond Nuts Manufacturer,Exporter, Supplier located in Mumbai,India.
Royal Nuts, Dryfruits & Spices supply predominant quality Almonds that are deliberately chosen from the blooming buds of almond organic product. Being considered as one of the most advantageous nuts, these Almonds are either eaten crude or in broiled structure. Almonds are broadly utilized as a part of frozen yogurt fixings, icy kheer and in numerous other sweet dishes as its fragrance improves the taste. They are most loved sustenance of health food nuts. Our scope of crude, whitened, and daintily broiled Almonds are likewise utilized for different generation systems as a part of social insurance and magnificence care items.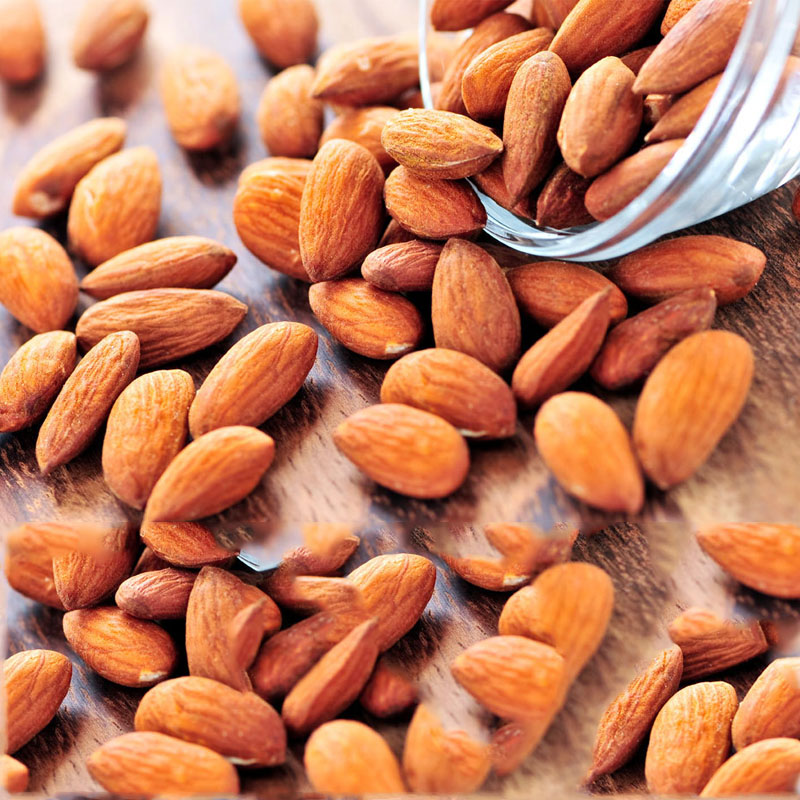 Both sweet and rich dry Indian Almonds are promptly accessible. Generally, sweet almonds are consumable, while sharp Almonds are utilized to make almond oil, a typical oil that is utilized to add flavor to sustenance. They are generally eaten crude, yet numerous individuals likewise include them as fixings in plates of mixed greens, meals, and different dishes. Almonds milk is likewise a flavorful refreshment, and a contrasting option to less nutritious dairy animals' milk.You can eat Almonds straightforwardly, ideally on a void stomach to increment and velocity up the assimilation of their supplements. You can absorb them water overnight so you can eat them the morning. Pounded Almonds are likewise a great trimming for a number of dishes.
Benefits of Almonds:
Almonds are a source of many nutrients which help in the development and health of the human brain. They have been connected to a higher intellectual level and they have long been considered an essential food item for growing children.
Almonds are a fantastic source of many vitamins and minerals, and phosphorous is definitely counted among them! Phosphorous can have a considerable impact on the strength and durability of bones and teeth, while also preventing the onset of age-related conditions like osteoporosis.
Almonds are great sources for alkali materials, and this is known to benefit the strength of the immune system.
Royal Nuts and Dry fruits provides Almonds nuts rich sweet pounded. Exporters in Agartala ,Agra, Agra Rampur, Ahmedabad, Aizawl, Ajmer, Aligarh, Allahabad, Alwar, Amaravati, Ambala, Ambattur, Ambernath, Amravati, Amritsar, Aurangabad, Bangalore, Bareilly, Belgaum, Bhagalpur, Bhavnagar, Bhilai, Bhiwandi, Bhopal, Bhubaneswar, Bidhannagar, Biharsharif,Bikaner, Bilaspur, Bokaro, Chandigarh, Chennai, Chittoor, Coimbatore, Cuttack, Dahod, Davanegere, Dehradun, Delhi, Dhanbad, Dharamsala, Dindigul, Diu, Durgapur, Erode, Faridabad, Fatehpur, Gandhidham, Gandhinagar, Ghaziabad, Greater Hyderabad, Greater Mumbai, Greater Warangal, Gurgaon, Guwahati, Gwalior, Haldia, Howrah , Hubballi-Dharwad, Hyderabad, Imphal, Indore, Jabalpur, Jaipur, Jalandhar, Jammu, Jamnagar, Jamshedpur, Jhansi, Jodhpur, Junagadh, Kakinada, Kalyan-Dombivali,Kanpur, Karnal , Kavaratti, Kochi, Kohima, Kolhapur, Kolkata, Kota, Lucknow, Ludhiana, Madurai, Mehsana, Mangalore, Mangaluru, Mira-Bhayandar , Moradabad, Morbi, Mumbai, Muzaffarpur, Mysore, Nagpur, Namchi, Nasik, Navi Mumbai, NDMC, Nellore,New Delhi, New Town Kolkata, Noida, Oulgaret, Pali, Panaji, Panipat, Panvel, Pasighat, Patiala, Patna, Pimpri-Chinchwad, Port Blair, Puducherry, Pune, Raipur, Rajkot, Ranchi, Raurkela Industrial Township, Rourkela, Sagar, Salem, Satna, Secunderabad, Shaharanpur, Shillong, Siliguri, Silvassa, Solapur, Srinagar, Surat, Thane, Thanjavur, Thiruvananthapuram, Thoothukudi, Thrissur, Tiruchirapalli, Tirunelveli, Tirupur, Tumkur, Udaipur, Ujjain, Ulhasnagar, Vadodara, Vapi, Varanasi, Vasai-Virar, Vellore , Vishakhapatnam.
Royal Nuts and Dry fruits is leading Supplier & Exporter of Almonds nuts rich sweet pounded in Wagle Estate Thane , Navi Mumbai, Vashi, Powai, Gujarat, Pune, Marine Drive, Marine Lines , Colaba, Zaveri Bazar, Kalbadevi, Khetwadi, Kumbharwada, Byculla, Lower Parel, Parel, Dadar, Andheri, Juhu, Belapur CBD, Mahape, Khopoli, Kalyan , Dombivali, Ulhasnagar, Sion, Dharavi, Wadala.
Royal Nuts and Dry fruits Supplier & Exporter of Almonds nuts rich sweet pounded in Afghanistan, Albania ,Algeria, Andorra, Angola, Antigua and Barbuda, Argentina, Armenia, Aruba, Austria, Azerbaijan, Bahamas The, Bahrain, Bangladesh, Barbados, Belarus, Belgium, Belize, Beninm, Bhutan, Bolivia, Bosnia and Herzegovina, Botswana, Brazil, Brunei, Bulgaria, Burkina Faso, Burma, Burundi, Cambodia, Cameroon, Verde, Central African Republic, Chad, Chile, China, Colombia, Comoros, Congo, Democratic Republic of the, Congo, Republic of the, Costa Rica, Cote, Croatia, Cuba, Curacao, Cyprus, Denmark, Djibouti, Dominica, Dominican Republic, Ecuador, Egypt, El Salvador, Equatorial Guinea, Eritrea, Estonia, Ethiopia, Fiji, Finland, France, Gabon, Gambia The Georgia, Germany, Ghana, Greece, Grenada, Guatemala, Guinea, Guinea-Bissau, Guyana, Haiti, Holy See, Honduras, Hong Kong, Hungary, Iceland, India, Indonesia, Iran, Iraq, Ireland, Israel, Italy, Jamaica, Japan, Jordan, Kazakhstan, Kenya, Kiribati, Korea, North, Korea, South, Kosovo, Kyrgyzstan, Laos, Latvia, Lebanon, Lesotho, Liberia, Libya, Liechtenstein, Lithuania, Luxembourg, Macau, Macedonia, Madagascar, Malawi, Malaysia, Maldives, Mali, Malta, Marshall Islands, Mauritania, Mauritius, Mexico, Micronesia, Moldova, Monaco, Mongolia, Montenegro, Morocco, Mozambique, Namibia, Nauru, Nepal, Netherlands, Netherlands Antilles, New Zealand, Nicaragua, Niger, Nigeria, North Korea, Norway, Pakistan, Palau, Palestinian Territories, Panama, Papua New Guinea, Paraguay, Peru, San Marino, Philippines, Poland, Portugal, Romania, Russia, Rwanda, Saint Kitts and Nevis, Saint Lucia, Saint Vincent and the Grenadines, Samoa ,Sao Tome and Principe, Saudi Arabia, Senegal, Serbia, Sierra Leone, Singapore, Sint Maarten, Slovakia, Slovenia, Solomon Islands, Somalia, South Africa, South Korea, South Sudan, Spain, Sri Lanka, Sudan, Suriname, Swaziland, Sweden, Switzerland, Syria, Taiwan, Tajikistan, Tanzania, Thailand, Timor-Leste, Togo, Tonga, Trinidad and Tobago, Tunisia, Turkey, Turkmenistan, Tuvalu, Uganda, Ukraine, United Arab Emirates, United Kingdom, Uruguay, Uzbekistan, Vanuatu, Venezuela, Vietnam, Yemen, Zambia, Zimbabwe, United Arab Emirates (UAE), Oman, Kuwait, Qatar, USA, UK, Canada, Australia, Czech Republic, Switzerland and European Countries.