Indian nutmeg Exporters, Buy Indian nutmeg from India, Indian nutmeg Exporters in India, Best Price of Indian nutmeg available with Royal Nuts and Dry Fruits.
Royal Nuts and Dry fruits is a leading Exporter of Indian nutmeg, Indian nutmeg are Supplied & Exported to United Arab Emirates (UAE), Oman, Kuwait, Qatar, USA, UK, Canada, Australia, Czech Republic, Switzerland and European Countries.
Royal Nuts, Dryfruits & Spices is a prominent Nutmeg Manufacturer, Nutmeg Exporter, Nutmeg Supplier,Indian Nutmeg Manufacturer, Indian Nutmeg Exporter, Indian Nutmeg Supplier, Jaiphal, Jaiphal Seeds, Jatipatri, Jathi Seed Manufacturer,Exporter,Supplier located in Mumbai,India.
Nutmeg is utilized generally as a part of a ton dishes as it improves the flavor and fragrance of the nourishment. The offered Nutmeg is obtained from solid merchants of the business and is checked by our specialists on different quality parameters. We give them in safe bundles according to the necessity of the customer. We handle mass requests at reasonable prices.Nutmeg otherwise called Jaiphal is a standout amongst the most utilized zest as a part of Ayurveda. It finds gigantic application in Cough syrups and other Ayurvedic products. Our organization offers best quality Jaiphal at aggressive costs.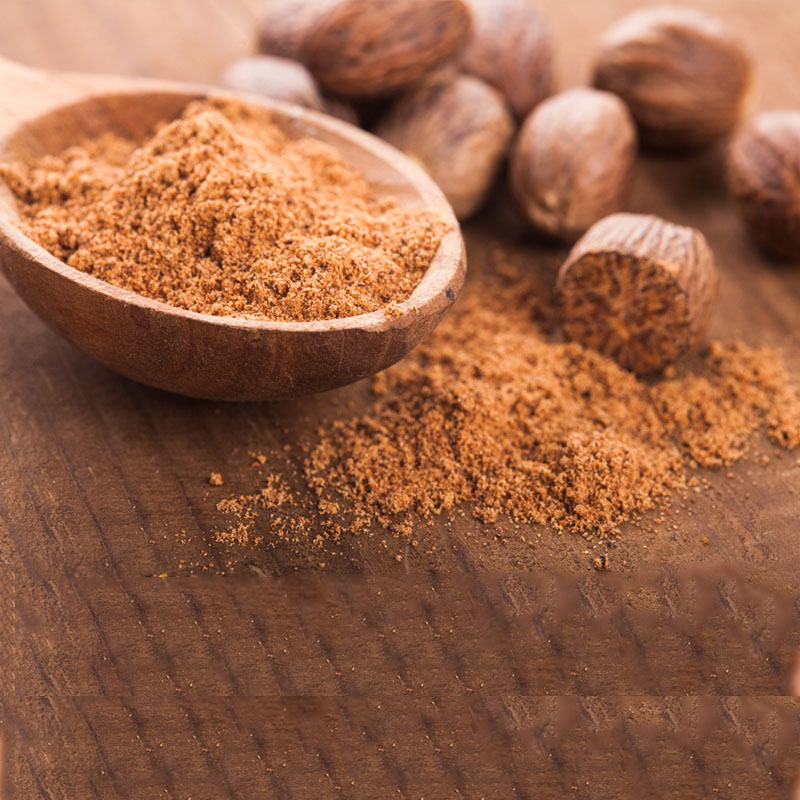 In Indian food, Nutmeg is utilized as a part of numerous sweet and in addition exquisite dishes (dominatingly in Mughlai cooking). It is known as Jaiphal in many parts of India and as Jatipatri and Jathi seed in Kerala. It might likewise be utilized as a part of little amounts in garam masala. Ground Nutmeg is likewise smoked in India. Serves as a tonic for the heart and brains. Our Nutmeg is rich in copper, potassium and many other nutrients and is highly demanded as it is an excellent anti-depressant. Our prestigious clients can obtain Nutmeg from us at most affordable rates.
Benefits of Nutmeg:
Nutmeg is an effective liver and kidney detoxifier.
Nutmeg powder heated on the pan with sesame oil until brown is an effective external application to relieve any rheumatic pain, neuralgia and sciatica.
Nutmeg can help clear up congestion due to colds, this is the reason why it is used in many cough syrups.
Nutmeg paste mixed with honey is given to infants who cry at night for no apparent reason, to induce sleep.
Nutmeg oil helps in removing bad breath. It is also antiseptic in nature and is effective for toothaches and aching gums.
Royal Nuts and Dry fruits provides Nutmeg. Exporters in Agartala ,Agra, Agra Rampur, Ahmedabad, Aizawl, Ajmer, Aligarh, Allahabad, Alwar, Amaravati, Ambala, Ambattur, Ambernath, Amravati, Amritsar, Aurangabad, Bangalore, Bareilly, Belgaum, Bhagalpur, Bhavnagar, Bhilai, Bhiwandi, Bhopal, Bhubaneswar, Bidhannagar, Biharsharif,Bikaner, Bilaspur, Bokaro, Chandigarh, Chennai, Chittoor, Coimbatore, Cuttack, Dahod, Davanegere, Dehradun, Delhi, Dhanbad, Dharamsala, Dindigul, Diu, Durgapur, Erode, Faridabad, Fatehpur, Gandhidham, Gandhinagar, Ghaziabad, Greater Hyderabad, Greater Mumbai, Greater Warangal, Gurgaon, Guwahati, Gwalior, Haldia, Howrah , Hubballi-Dharwad, Hyderabad, Imphal, Indore, Jabalpur, Jaipur, Jalandhar, Jammu, Jamnagar, Jamshedpur, Jhansi, Jodhpur, Junagadh, Kakinada, Kalyan-Dombivali,Kanpur, Karnal , Kavaratti, Kochi, Kohima, Kolhapur, Kolkata, Kota, Lucknow, Ludhiana, Madurai, Mehsana, Mangalore, Mangaluru, Mira-Bhayandar , Moradabad, Morbi, Mumbai, Muzaffarpur, Mysore, Nagpur, Namchi, Nasik, Navi Mumbai, NDMC, Nellore,New Delhi, New Town Kolkata, Noida, Oulgaret, Pali, Panaji, Panipat, Panvel, Pasighat, Patiala, Patna, Pimpri-Chinchwad, Port Blair, Puducherry, Pune, Raipur, Rajkot, Ranchi, Raurkela Industrial Township, Rourkela, Sagar, Salem, Satna, Secunderabad, Shaharanpur, Shillong, Siliguri, Silvassa, Solapur, Srinagar, Surat, Thane, Thanjavur, Thiruvananthapuram, Thoothukudi, Thrissur, Tiruchirapalli, Tirunelveli, Tirupur, Tumkur, Udaipur, Ujjain, Ulhasnagar, Vadodara, Vapi, Varanasi, Vasai-Virar, Vellore , Vishakhapatnam.
Royal Nuts and Dry fruits is leading Supplier & Exporter of Nutmeg in Wagle Estate Thane , Navi Mumbai, Vashi, Powai, Gujarat, Pune, Marine Drive, Marine Lines , Colaba, Zaveri Bazar, Kalbadevi, Khetwadi, Kumbharwada, Byculla, Lower Parel, Parel, Dadar, Andheri, Juhu, Belapur CBD, Mahape, Khopoli, Kalyan , Dombivali, Ulhasnagar, Sion, Dharavi, Wadala.
Royal Nuts and Dry fruits Supplier & Exporter of Nutmeg in Afghanistan, Albania ,Algeria, Andorra, Angola, Antigua and Barbuda, Argentina, Armenia, Aruba, Austria, Azerbaijan, Bahamas The, Bahrain, Bangladesh, Barbados, Belarus, Belgium, Belize, Beninm, Bhutan, Bolivia, Bosnia and Herzegovina, Botswana, Brazil, Brunei, Bulgaria, Burkina Faso, Burma, Burundi, Cambodia, Cameroon, Verde, Central African Republic, Chad, Chile, China, Colombia, Comoros, Congo, Democratic Republic of the, Congo, Republic of the, Costa Rica, Cote, Croatia, Cuba, Curacao, Cyprus, Denmark, Djibouti, Dominica, Dominican Republic, Ecuador, Egypt, El Salvador, Equatorial Guinea, Eritrea, Estonia, Ethiopia, Fiji, Finland, France, Gabon, Gambia The Georgia, Germany, Ghana, Greece, Grenada, Guatemala, Guinea, Guinea-Bissau, Guyana, Haiti, Holy See, Honduras, Hong Kong, Hungary, Iceland, India, Indonesia, Iran, Iraq, Ireland, Israel, Italy, Jamaica, Japan, Jordan, Kazakhstan, Kenya, Kiribati, Korea, North, Korea, South, Kosovo, Kyrgyzstan, Laos, Latvia, Lebanon, Lesotho, Liberia, Libya, Liechtenstein, Lithuania, Luxembourg, Macau, Macedonia, Madagascar, Malawi, Malaysia, Maldives, Mali, Malta, Marshall Islands, Mauritania, Mauritius, Mexico, Micronesia, Moldova, Monaco, Mongolia, Montenegro, Morocco, Mozambique, Namibia, Nauru, Nepal, Netherlands, Netherlands Antilles, New Zealand, Nicaragua, Niger, Nigeria, North Korea, Norway, Pakistan, Palau, Palestinian Territories, Panama, Papua New Guinea, Paraguay, Peru, San Marino, Philippines, Poland, Portugal, Romania, Russia, Rwanda, Saint Kitts and Nevis, Saint Lucia, Saint Vincent and the Grenadines, Samoa ,Sao Tome and Principe, Saudi Arabia, Senegal, Serbia, Sierra Leone, Singapore, Sint Maarten, Slovakia, Slovenia, Solomon Islands, Somalia, South Africa, South Korea, South Sudan, Spain, Sri Lanka, Sudan, Suriname, Swaziland, Sweden, Switzerland, Syria, Taiwan, Tajikistan, Tanzania, Thailand, Timor-Leste, Togo, Tonga, Trinidad and Tobago, Tunisia, Turkey, Turkmenistan, Tuvalu, Uganda, Ukraine, United Arab Emirates, United Kingdom, Uruguay, Uzbekistan, Vanuatu, Venezuela, Vietnam, Yemen, Zambia, Zimbabwe, United Arab Emirates (UAE), Oman, Kuwait, Qatar, USA, UK, Canada, Australia, Czech Republic, Switzerland and European Countries.