Indian cashew nuts Exporters, Buy Indian cashew nuts from India , Indian cashew nuts Exporters in India, Best Price of Indian cashew nuts available with Royal Nuts and Dry Fruits.
Royal Nuts and Dry fruits is a leading Exporter of Indian cashew nuts, Indian cashew nuts are Supplied & Exported to United Arab Emirates (UAE), Oman, Kuwait, Qatar, USA, UK, Canada, Australia, Czech Republic, Switzerland and European Countries.
Royal Nuts, Dryfruits & Spices is a prominent in Cashew Nuts,Rich Cashewnuts,White Cashew Nuts,Sweet Cashew Nuts,Salty Cashew Nuts,Super Quality Cashew Nuts,Special Cashew Nuts,Rich Cashew Nuts Manufacturer,Exporter,Supplier located in Mumbai,India.
Royal Nuts, Dryfruits & Spices provide world-class quality White Cashew Nuts to our customers. Our offered nuts are gotten from rumored and dependable merchants in business sector. Besides, our offered Cashew Nuts are accessible in different bundling choices and amounts according to customers' requests. They are respected for their freshness, rich taste and defensive bundling. We offer these sort of White Cashew Nuts on extremely compatative costs in entire business sector.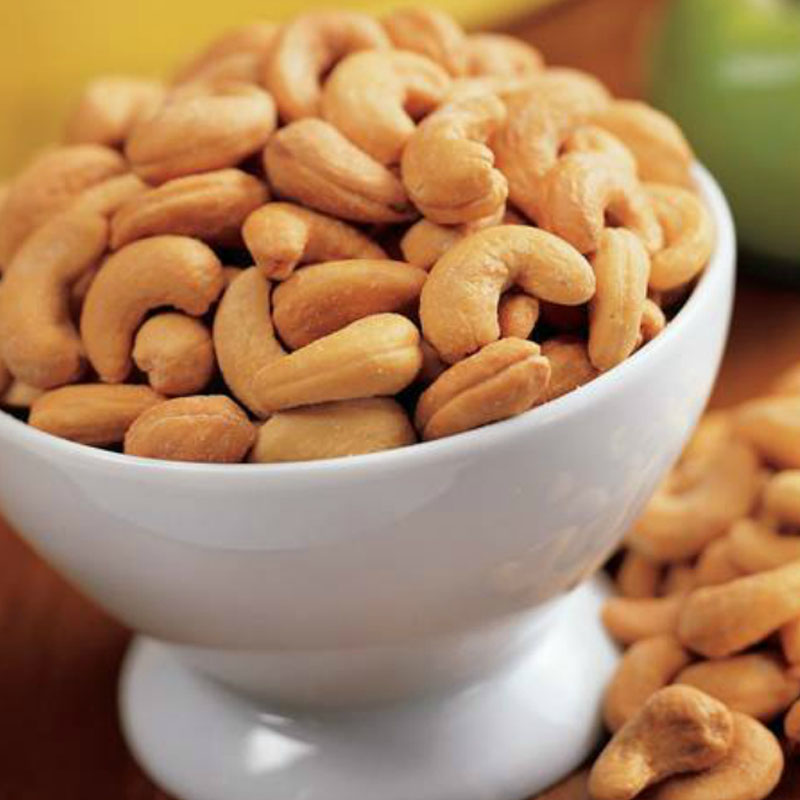 The Cashew Nuts are utilized as a part of get ready desserts and even drinks to sparkle their flavor and fragrance. Cashew Nuts are one of the dry natural products, which has one of a kind taste and accompany medical advantages because of advancement with minerals like protein, fat, sugar, calcium and vitamin An and E. These are gotten from the profoundly dependable sources and are quality-endorsed items. We give due accentuation on the bundling of cashew nuts as it is vital to keep them in their best condition and keeps the basic supplements.
Cashew tree bears various, eatable, pear formed false natural products or "embellishment organic products'" called "cashew apples." Cashew Nuts which really is a "genuine organic product", immovably appending to base end of cashew-apple, seeming like a clapper in the chime. Organically, this small, bean formed, dark "genuine natural product" is a drupe, including hard external shell encasing a solitary consumable piece referred to monetarily as "cashew nut."
Benefits of Cashew Nuts:
Proanthocyanidins are a class of flavonols which fight against tumor cells by stopping them to divide further. These proanthocyanidins and high copper content in cashew nuts help fight against cancerous cells.
Heart-Protective Monounsaturated Fats
Copper for Antioxidant Defenses, Energy Production, Bones and Blood Vessels
Bone Up and Relax with Cashews
Royal Nuts and Dry fruits provides Cashew Nuts. Exporters in Agartala ,Agra, Agra Rampur, Ahmedabad, Aizawl, Ajmer, Aligarh, Allahabad, Alwar, Amaravati, Ambala, Ambattur, Ambernath, Amravati, Amritsar, Aurangabad, Bangalore, Bareilly, Belgaum, Bhagalpur, Bhavnagar, Bhilai, Bhiwandi, Bhopal, Bhubaneswar, Bidhannagar, Biharsharif,Bikaner, Bilaspur, Bokaro, Chandigarh, Chennai, Chittoor, Coimbatore, Cuttack, Dahod, Davanegere, Dehradun, Delhi, Dhanbad, Dharamsala, Dindigul, Diu, Durgapur, Erode, Faridabad, Fatehpur, Gandhidham, Gandhinagar, Ghaziabad, Greater Hyderabad, Greater Mumbai, Greater Warangal, Gurgaon, Guwahati, Gwalior, Haldia, Howrah , Hubballi-Dharwad, Hyderabad, Imphal, Indore, Jabalpur, Jaipur, Jalandhar, Jammu, Jamnagar, Jamshedpur, Jhansi, Jodhpur, Junagadh, Kakinada, Kalyan-Dombivali,Kanpur, Karnal , Kavaratti, Kochi, Kohima, Kolhapur, Kolkata, Kota, Lucknow, Ludhiana, Madurai, Mehsana, Mangalore, Mangaluru, Mira-Bhayandar , Moradabad, Morbi, Mumbai, Muzaffarpur, Mysore, Nagpur, Namchi, Nasik, Navi Mumbai, NDMC, Nellore,New Delhi, New Town Kolkata, Noida, Oulgaret, Pali, Panaji, Panipat, Panvel, Pasighat, Patiala, Patna, Pimpri-Chinchwad, Port Blair, Puducherry, Pune, Raipur, Rajkot, Ranchi, Raurkela Industrial Township, Rourkela, Sagar, Salem, Satna, Secunderabad, Shaharanpur, Shillong, Siliguri, Silvassa, Solapur, Srinagar, Surat, Thane, Thanjavur, Thiruvananthapuram, Thoothukudi, Thrissur, Tiruchirapalli, Tirunelveli, Tirupur, Tumkur, Udaipur, Ujjain, Ulhasnagar, Vadodara, Vapi, Varanasi, Vasai-Virar, Vellore , Vishakhapatnam.
Royal Nuts and Dry fruits is leading Supplier & Exporter of Cashew Nuts in Wagle Estate Thane , Navi Mumbai, Vashi, Powai, Gujarat, Pune, Marine Drive, Marine Lines , Colaba, Zaveri Bazar, Kalbadevi, Khetwadi, Kumbharwada, Byculla, Lower Parel, Parel, Dadar, Andheri, Juhu, Belapur CBD, Mahape, Khopoli, Kalyan , Dombivali, Ulhasnagar, Sion, Dharavi, Wadala.
Royal Nuts and Dry fruits Supplier & Exporter of Cashew Nuts in Afghanistan, Albania ,Algeria, Andorra, Angola, Antigua and Barbuda, Argentina, Armenia, Aruba, Austria, Azerbaijan, Bahamas The, Bahrain, Bangladesh, Barbados, Belarus, Belgium, Belize, Beninm, Bhutan, Bolivia, Bosnia and Herzegovina, Botswana, Brazil, Brunei, Bulgaria, Burkina Faso, Burma, Burundi, Cambodia, Cameroon, Verde, Central African Republic, Chad, Chile, China, Colombia, Comoros, Congo, Democratic Republic of the, Congo, Republic of the, Costa Rica, Cote, Croatia, Cuba, Curacao, Cyprus, Denmark, Djibouti, Dominica, Dominican Republic, Ecuador, Egypt, El Salvador, Equatorial Guinea, Eritrea, Estonia, Ethiopia, Fiji, Finland, France, Gabon, Gambia The Georgia, Germany, Ghana, Greece, Grenada, Guatemala, Guinea, Guinea-Bissau, Guyana, Haiti, Holy See, Honduras, Hong Kong, Hungary, Iceland, India, Indonesia, Iran, Iraq, Ireland, Israel, Italy, Jamaica, Japan, Jordan, Kazakhstan, Kenya, Kiribati, Korea, North, Korea, South, Kosovo, Kyrgyzstan, Laos, Latvia, Lebanon, Lesotho, Liberia, Libya, Liechtenstein, Lithuania, Luxembourg, Macau, Macedonia, Madagascar, Malawi, Malaysia, Maldives, Mali, Malta, Marshall Islands, Mauritania, Mauritius, Mexico, Micronesia, Moldova, Monaco, Mongolia, Montenegro, Morocco, Mozambique, Namibia, Nauru, Nepal, Netherlands, Netherlands Antilles, New Zealand, Nicaragua, Niger, Nigeria, North Korea, Norway, Pakistan, Palau, Palestinian Territories, Panama, Papua New Guinea, Paraguay, Peru, San Marino, Philippines, Poland, Portugal, Romania, Russia, Rwanda, Saint Kitts and Nevis, Saint Lucia, Saint Vincent and the Grenadines, Samoa ,Sao Tome and Principe, Saudi Arabia, Senegal, Serbia, Sierra Leone, Singapore, Sint Maarten, Slovakia, Slovenia, Solomon Islands, Somalia, South Africa, South Korea, South Sudan, Spain, Sri Lanka, Sudan, Suriname, Swaziland, Sweden, Switzerland, Syria, Taiwan, Tajikistan, Tanzania, Thailand, Timor-Leste, Togo, Tonga, Trinidad and Tobago, Tunisia, Turkey, Turkmenistan, Tuvalu, Uganda, Ukraine, United Arab Emirates, United Kingdom, Uruguay, Uzbekistan, Vanuatu, Venezuela, Vietnam, Yemen, Zambia, Zimbabwe, United Arab Emirates (UAE), Oman, Kuwait, Qatar, USA, UK, Canada, Australia, Czech Republic, Switzerland and European Countries.