Indian fenugreek seeds Exporters, Buy Indian coriander seeds from India, Indian fenugreek seeds Exporters in India, Best Price of fenugreek seeds available with Royal Nuts and Dry Fruits.
Royal Nuts and Dry fruits is a leading Exporter of Indian fenugreek seeds, Indian fenugreek seeds are Supplied & Exported to United Arab Emirates (UAE), Oman, Kuwait, Qatar, USA, UK, Canada, Australia, Czech Republic, Switzerland and European Countries.
Royal Nuts, Dryfruits & Spices are one of the leading Fenugreek Seeds Manufacturer,Exporter,Supplier distributing Common Fenugreek Seeds and similar at most affordable prices. Fenugreek Seeds are also called as Methi Seeds. Undoubtedly, Fenugreek Seeds taste wonderful and having plenty of health benefits too. Fenugreek, an Indian spice is a thin yearly herb of the pea family (Fabaceae). Fenugreek was utilized by the old Egyptians and is said in medicinal works in their tombs. Generally, the principle utilization of Common Fenugreek seeds was therapeutic as opposed to as a work. In light of its high nutritive substance, Fenugreek is an essential fixing in vegetable and dal dishes eaten in India.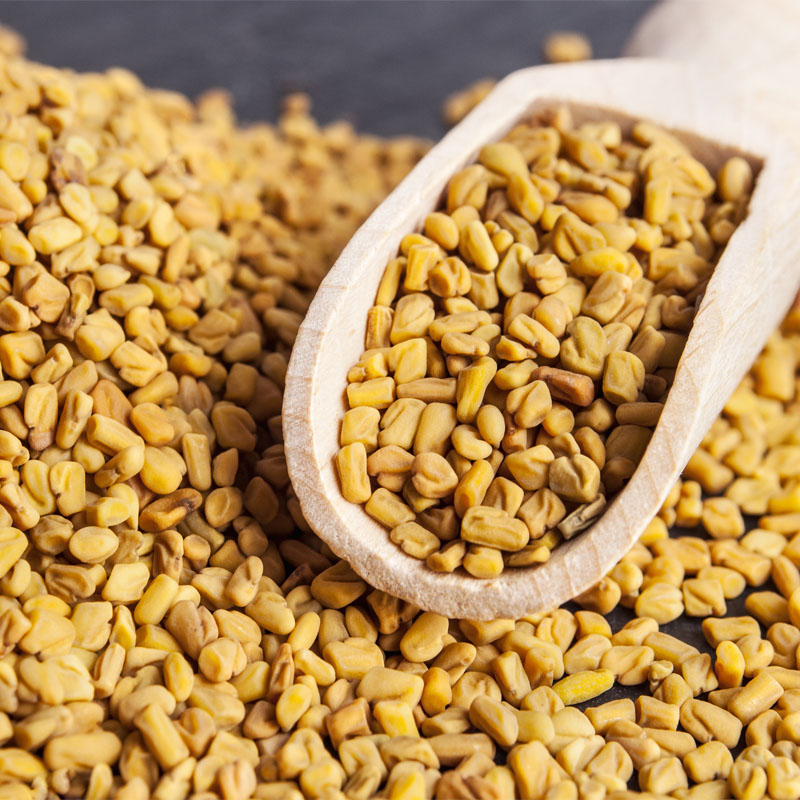 The plant name trigonella alludes to the precise seeds and foenumgraecum interprets as 'Greek hay', which clarifies its utilization as steers feeds.This powerful herb has light green leaves, is 30-60 cm tall and produces thin, bent pods, 10-15 cm long, every pod contains 10-20 little hard yellowish cocoa seeds, which are smooth and elliptical, around 3mm long, each notched crosswise over one corner, giving them a snared appearance. In India Fenugreek is become broadly in Rajasthan, Gujarat, Madhya Pradesh, Uttar Pradesh, Maharashtra and Punjab. Fenugreek is a chilly season edit and is genuinely tolerant to ice and low temperature. The herb is a trademark fixing in a few curries and chutneys and the Fenugreek concentrate is utilized to make impersonation maple syrup.
Benefits of Fenugreek Seeds
Lowers blood cholesterol : Fenugreek Seeds helps to reduce cholesterol level, especially that of the low density lipoprotein (LDL).
Reduces risk of heart disease : Due to the presence of galactomannan, Fenugreek plays a key role in maintain your heart health.
Controls blood sugar levels : Diabetic must include Fenugreek or Methi (either in the form of Seeds or Leaves) in their diet. Because galactomannan, a natural soluble fibre present in Fenugreek slows down the rate of sugar absorption into blood.
Aids digestion : As Fenugreek Seeds are rich in fibre and antioxidants, it helps in flushing out harmful toxins from the body and thus, aids digestion.
Helps to lose weight : Include Common Fenugreek Seeds in the weight loss diet by chewing soaked Fenugreek or Methi seeds in the morning on an empty stomach. The natural soluble fibre in the Fenugreek can swell and fill the stomach thereby suppressing your appetite and aiding your weight loss goals.
Royal Nuts and Dry fruits provides Fenugreek Seeds. Exporters in Agartala ,Agra, Agra Rampur, Ahmedabad, Aizawl, Ajmer, Aligarh, Allahabad, Alwar, Amaravati, Ambala, Ambattur, Ambernath, Amravati, Amritsar, Aurangabad, Bangalore, Bareilly, Belgaum, Bhagalpur, Bhavnagar, Bhilai, Bhiwandi, Bhopal, Bhubaneswar, Bidhannagar, Biharsharif,Bikaner, Bilaspur, Bokaro, Chandigarh, Chennai, Chittoor, Coimbatore, Cuttack, Dahod, Davanegere, Dehradun, Delhi, Dhanbad, Dharamsala, Dindigul, Diu, Durgapur, Erode, Faridabad, Fatehpur, Gandhidham, Gandhinagar, Ghaziabad, Greater Hyderabad, Greater Mumbai, Greater Warangal, Gurgaon, Guwahati, Gwalior, Haldia, Howrah , Hubballi-Dharwad, Hyderabad, Imphal, Indore, Jabalpur, Jaipur, Jalandhar, Jammu, Jamnagar, Jamshedpur, Jhansi, Jodhpur, Junagadh, Kakinada, Kalyan-Dombivali,Kanpur, Karnal , Kavaratti, Kochi, Kohima, Kolhapur, Kolkata, Kota, Lucknow, Ludhiana, Madurai, Mehsana, Mangalore, Mangaluru, Mira-Bhayandar , Moradabad, Morbi, Mumbai, Muzaffarpur, Mysore, Nagpur, Namchi, Nasik, Navi Mumbai, NDMC, Nellore,New Delhi, New Town Kolkata, Noida, Oulgaret, Pali, Panaji, Panipat, Panvel, Pasighat, Patiala, Patna, Pimpri-Chinchwad, Port Blair, Puducherry, Pune, Raipur, Rajkot, Ranchi, Raurkela Industrial Township, Rourkela, Sagar, Salem, Satna, Secunderabad, Shaharanpur, Shillong, Siliguri, Silvassa, Solapur, Srinagar, Surat, Thane, Thanjavur, Thiruvananthapuram, Thoothukudi, Thrissur, Tiruchirapalli, Tirunelveli, Tirupur, Tumkur, Udaipur, Ujjain, Ulhasnagar, Vadodara, Vapi, Varanasi, Vasai-Virar, Vellore , Vishakhapatnam.
Royal Nuts and Dry fruits is leading Supplier & Exporter of Fenugreek Seeds in Wagle Estate Thane , Navi Mumbai, Vashi, Powai, Gujarat, Pune, Marine Drive, Marine Lines , Colaba, Zaveri Bazar, Kalbadevi, Khetwadi, Kumbharwada, Byculla, Lower Parel, Parel, Dadar, Andheri, Juhu, Belapur CBD, Mahape, Khopoli, Kalyan , Dombivali, Ulhasnagar, Sion, Dharavi, Wadala.
Royal Nuts and Dry fruits Supplier & Exporter of Fenugreek Seeds in Afghanistan, Albania ,Algeria, Andorra, Angola, Antigua and Barbuda, Argentina, Armenia, Aruba, Austria, Azerbaijan, Bahamas The, Bahrain, Bangladesh, Barbados, Belarus, Belgium, Belize, Beninm, Bhutan, Bolivia, Bosnia and Herzegovina, Botswana, Brazil, Brunei, Bulgaria, Burkina Faso, Burma, Burundi, Cambodia, Cameroon, Verde, Central African Republic, Chad, Chile, China, Colombia, Comoros, Congo, Democratic Republic of the, Congo, Republic of the, Costa Rica, Cote, Croatia, Cuba, Curacao, Cyprus, Denmark, Djibouti, Dominica, Dominican Republic, Ecuador, Egypt, El Salvador, Equatorial Guinea, Eritrea, Estonia, Ethiopia, Fiji, Finland, France, Gabon, Gambia The Georgia, Germany, Ghana, Greece, Grenada, Guatemala, Guinea, Guinea-Bissau, Guyana, Haiti, Holy See, Honduras, Hong Kong, Hungary, Iceland, India, Indonesia, Iran, Iraq, Ireland, Israel, Italy, Jamaica, Japan, Jordan, Kazakhstan, Kenya, Kiribati, Korea, North, Korea, South, Kosovo, Kyrgyzstan, Laos, Latvia, Lebanon, Lesotho, Liberia, Libya, Liechtenstein, Lithuania, Luxembourg, Macau, Macedonia, Madagascar, Malawi, Malaysia, Maldives, Mali, Malta, Marshall Islands, Mauritania, Mauritius, Mexico, Micronesia, Moldova, Monaco, Mongolia, Montenegro, Morocco, Mozambique, Namibia, Nauru, Nepal, Netherlands, Netherlands Antilles, New Zealand, Nicaragua, Niger, Nigeria, North Korea, Norway, Pakistan, Palau, Palestinian Territories, Panama, Papua New Guinea, Paraguay, Peru, San Marino, Philippines, Poland, Portugal, Romania, Russia, Rwanda, Saint Kitts and Nevis, Saint Lucia, Saint Vincent and the Grenadines, Samoa ,Sao Tome and Principe, Saudi Arabia, Senegal, Serbia, Sierra Leone, Singapore, Sint Maarten, Slovakia, Slovenia, Solomon Islands, Somalia, South Africa, South Korea, South Sudan, Spain, Sri Lanka, Sudan, Suriname, Swaziland, Sweden, Switzerland, Syria, Taiwan, Tajikistan, Tanzania, Thailand, Timor-Leste, Togo, Tonga, Trinidad and Tobago, Tunisia, Turkey, Turkmenistan, Tuvalu, Uganda, Ukraine, United Arab Emirates, United Kingdom, Uruguay, Uzbekistan, Vanuatu, Venezuela, Vietnam, Yemen, Zambia, Zimbabwe, United Arab Emirates (UAE), Oman, Kuwait, Qatar, USA, UK, Canada, Australia, Czech Republic, Switzerland and European Countries.