Indian golden sesame seeds Exporters, Buy Indian golden sesame seeds from India , Indian golden sesame seeds Exporters in India, Best Price of Indian golden sesame seeds available with Royal Nuts and Dry Fruits.
Royal Nuts and Dry fruits is a leading Exporter of Indian golden sesame seeds, Indian golden sesame seeds are Supplied & Exported to United Arab Emirates (UAE), Oman, Kuwait, Qatar, USA, UK, Canada, Australia, Czech Republic, Switzerland and European Countries.
Royal Nuts, Dryfruits & Spices are a noteworthy Golden Sesame Seeds Manufacturer,Exporter,Supplier in India. We offer premium quality Golden Sesame Seeds that are brimming with supplements like Proteins and Carbohydrates.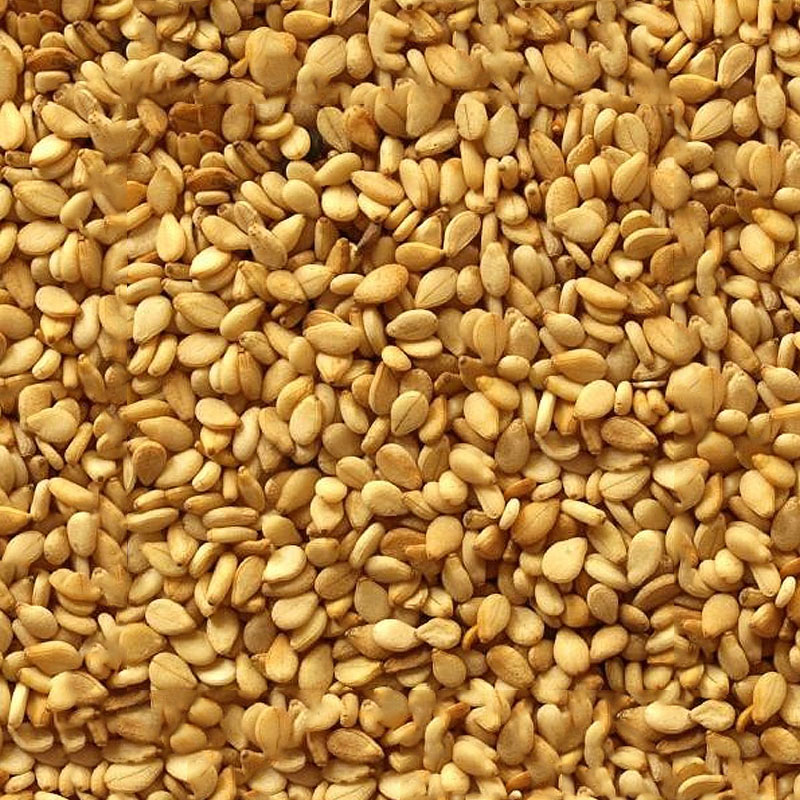 These Golden Sesame Seeds are generally utilized for flavoring on confectionary and bakery products. Alongside the wholesome properties, the Golden Sesame Seeds are additionally known for their high therapeutic quality. We supply Sesame Seeds in various structures and assortments, for example, Natural, Hulled and Golden. Our Golden Sesame Seeds are little tasty, unhulled seeds that are utilized as a part of cereals, crackers, spreads, drinks, dishes, granola, candies, soups, salads fish and baked goods. Delicious when toasted and sprinkled on grains or primary dishes. Known as tahini when ground into a butter. A nutritious mayonnaise substitute might be made by just mixing sesame seeds with water.
Benefits of Golden Sesame Seeds:
Golden Sesame seeds contain many health benefiting compounds such as sesamol (3, 4-methylene-dioxyphenol),sesaminol, furyl-methanthiol, guajacol (2-methoxyphenol), phenylethanthiol and furaneol, vinylguacol, and decadienal. Sesamol and sesaminol are phenolic anti-oxidants. Together, these compounds help stave off harmful free radicals from the human body.
Golden Sesame is among the seeds rich in quality vitamins, and minerals. They are very good sources of B-complex vitamins such as niacin, folic acid, thiamin (vitamin B1), pyridoxine (vitamin B6), and riboflavin.
The Golden Sesame seeds are incredibly rich sources of many essential minerals. Calcium, iron, manganese, zinc, magnesium, selenium, and copper are especially concentrated in sesame seeds. Many of these minerals have a vital role in bone mineralization, red blood cell production, enzyme synthesis, hormone production, as well as regulation of cardiac and skeletal muscle activities.
Royal Nuts and Dry fruits provides Golden Sesame Seeds. Exporters in Agartala ,Agra, Agra Rampur, Ahmedabad, Aizawl, Ajmer, Aligarh, Allahabad, Alwar, Amaravati, Ambala, Ambattur, Ambernath, Amravati, Amritsar, Aurangabad, Bangalore, Bareilly, Belgaum, Bhagalpur, Bhavnagar, Bhilai, Bhiwandi, Bhopal, Bhubaneswar, Bidhannagar, Biharsharif,Bikaner, Bilaspur, Bokaro, Chandigarh, Chennai, Chittoor, Coimbatore, Cuttack, Dahod, Davanegere, Dehradun, Delhi, Dhanbad, Dharamsala, Dindigul, Diu, Durgapur, Erode, Faridabad, Fatehpur, Gandhidham, Gandhinagar, Ghaziabad, Greater Hyderabad, Greater Mumbai, Greater Warangal, Gurgaon, Guwahati, Gwalior, Haldia, Howrah , Hubballi-Dharwad, Hyderabad, Imphal, Indore, Jabalpur, Jaipur, Jalandhar, Jammu, Jamnagar, Jamshedpur, Jhansi, Jodhpur, Junagadh, Kakinada, Kalyan-Dombivali,Kanpur, Karnal , Kavaratti, Kochi, Kohima, Kolhapur, Kolkata, Kota, Lucknow, Ludhiana, Madurai, Mehsana, Mangalore, Mangaluru, Mira-Bhayandar , Moradabad, Morbi, Mumbai, Muzaffarpur, Mysore, Nagpur, Namchi, Nasik, Navi Mumbai, NDMC, Nellore,New Delhi, New Town Kolkata, Noida, Oulgaret, Pali, Panaji, Panipat, Panvel, Pasighat, Patiala, Patna, Pimpri-Chinchwad, Port Blair, Puducherry, Pune, Raipur, Rajkot, Ranchi, Raurkela Industrial Township, Rourkela, Sagar, Salem, Satna, Secunderabad, Shaharanpur, Shillong, Siliguri, Silvassa, Solapur, Srinagar, Surat, Thane, Thanjavur, Thiruvananthapuram, Thoothukudi, Thrissur, Tiruchirapalli, Tirunelveli, Tirupur, Tumkur, Udaipur, Ujjain, Ulhasnagar, Vadodara, Vapi, Varanasi, Vasai-Virar, Vellore , Vishakhapatnam.
Royal Nuts and Dry fruits is leading Supplier & Exporter of Golden Sesame Seeds in Wagle Estate Thane , Navi Mumbai, Vashi, Powai, Gujarat, Pune, Marine Drive, Marine Lines , Colaba, Zaveri Bazar, Kalbadevi, Khetwadi, Kumbharwada, Byculla, Lower Parel, Parel, Dadar, Andheri, Juhu, Belapur CBD, Mahape, Khopoli, Kalyan , Dombivali, Ulhasnagar, Sion, Dharavi, Wadala.
Royal Nuts and Dry fruits Supplier & Exporter of Golden Sesame Seeds in Afghanistan, Albania ,Algeria, Andorra, Angola, Antigua and Barbuda, Argentina, Armenia, Aruba, Austria, Azerbaijan, Bahamas The, Bahrain, Bangladesh, Barbados, Belarus, Belgium, Belize, Beninm, Bhutan, Bolivia, Bosnia and Herzegovina, Botswana, Brazil, Brunei, Bulgaria, Burkina Faso, Burma, Burundi, Cambodia, Cameroon, Verde, Central African Republic, Chad, Chile, China, Colombia, Comoros, Congo, Democratic Republic of the, Congo, Republic of the, Costa Rica, Cote, Croatia, Cuba, Curacao, Cyprus, Denmark, Djibouti, Dominica, Dominican Republic, Ecuador, Egypt, El Salvador, Equatorial Guinea, Eritrea, Estonia, Ethiopia, Fiji, Finland, France, Gabon, Gambia The Georgia, Germany, Ghana, Greece, Grenada, Guatemala, Guinea, Guinea-Bissau, Guyana, Haiti, Holy See, Honduras, Hong Kong, Hungary, Iceland, India, Indonesia, Iran, Iraq, Ireland, Israel, Italy, Jamaica, Japan, Jordan, Kazakhstan, Kenya, Kiribati, Korea, North, Korea, South, Kosovo, Kyrgyzstan, Laos, Latvia, Lebanon, Lesotho, Liberia, Libya, Liechtenstein, Lithuania, Luxembourg, Macau, Macedonia, Madagascar, Malawi, Malaysia, Maldives, Mali, Malta, Marshall Islands, Mauritania, Mauritius, Mexico, Micronesia, Moldova, Monaco, Mongolia, Montenegro, Morocco, Mozambique, Namibia, Nauru, Nepal, Netherlands, Netherlands Antilles, New Zealand, Nicaragua, Niger, Nigeria, North Korea, Norway, Pakistan, Palau, Palestinian Territories, Panama, Papua New Guinea, Paraguay, Peru, San Marino, Philippines, Poland, Portugal, Romania, Russia, Rwanda, Saint Kitts and Nevis, Saint Lucia, Saint Vincent and the Grenadines, Samoa ,Sao Tome and Principe, Saudi Arabia, Senegal, Serbia, Sierra Leone, Singapore, Sint Maarten, Slovakia, Slovenia, Solomon Islands, Somalia, South Africa, South Korea, South Sudan, Spain, Sri Lanka, Sudan, Suriname, Swaziland, Sweden, Switzerland, Syria, Taiwan, Tajikistan, Tanzania, Thailand, Timor-Leste, Togo, Tonga, Trinidad and Tobago, Tunisia, Turkey, Turkmenistan, Tuvalu, Uganda, Ukraine, United Arab Emirates, United Kingdom, Uruguay, Uzbekistan, Vanuatu, Venezuela, Vietnam, Yemen, Zambia, Zimbabwe, United Arab Emirates (UAE), Oman, Kuwait, Qatar, USA, UK, Canada, Australia, Czech Republic, Switzerland and European Countries.